Unlocking the Bioeconomy for Nontimber Forest Products Webinar Series
Bioeconomies emphasize the use of renewable natural resources to sustainably provide products. A bioeconomy can reduce the environmental impact of economic growth. Science-based management promotes sustainable harvests and production.
Nontimber forest products (NTFP) are goods used for a variety of purposes. NTFP provide food, medicine, decorations, nursery and landscaping products, fine art, and crafts. Billions of people worldwide depend on NTFP, either by direct consumption or as a source of income.
These products are relatively invisible in national statistics. This under-reporting obscures the role they play in poverty reduction, food and health security, and social stability.
The IUFRO Task Force is investigating how NTFP can be integrated with the bioeconomy, and how research can support these efforts. The Task Force has more than 70 experts, representing over 20 institutions. The Task Force is facilitating dialogue and sharing knowledge to improve the reporting of NTFP contributions to the bioeconomy.
This webinar series is an opportunity to learn about the ongoing research on these products within a bioeconomy concept.
This webinar series is hosted by the IUFRO Task Force, USDA Forest Service, The Forest History Society, and Renmin University of China.
---
Recordings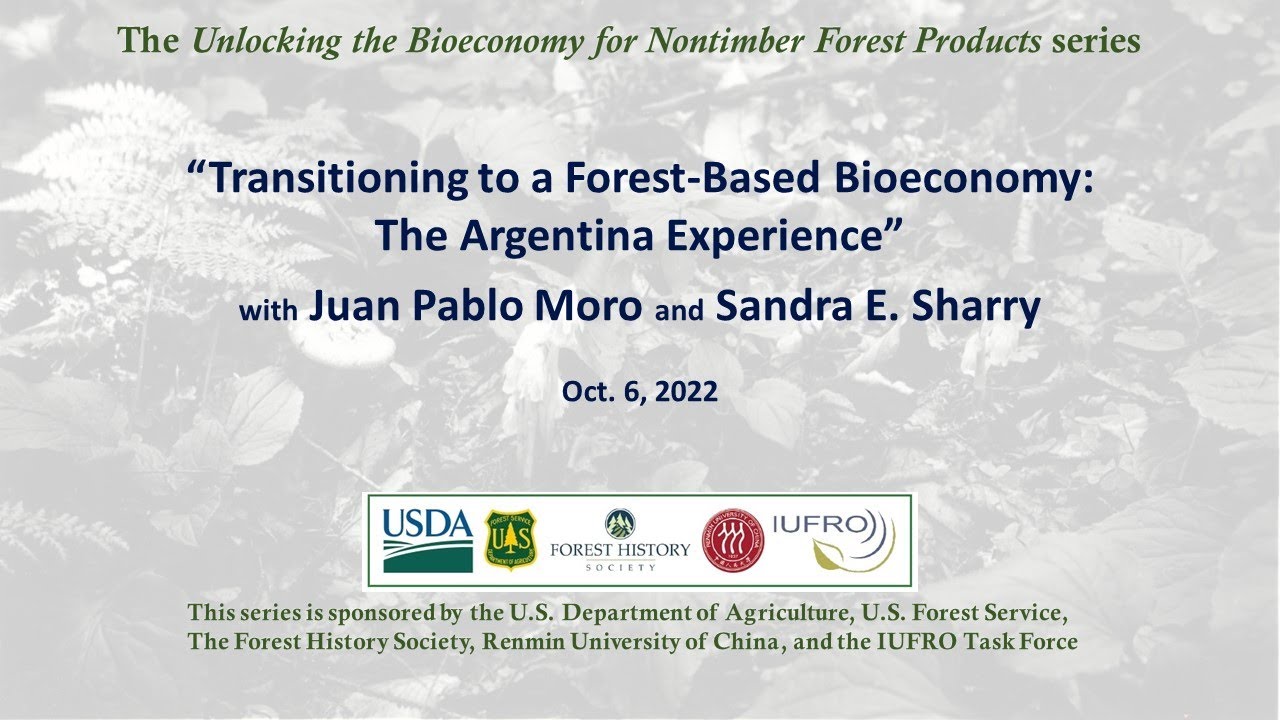 Transitioning to a forest-based bioeconomy: The Argentina experience
October 6, 2022
Presented by Juan Pablo Moro and Sandra E. Sharry, Ph
To address challenges linked to the forest sector, Argentina crafted ForestAr 2030, a strategic plan to move toward a forest-based bioeconomy. This effort, led by the Ministry of Science and Technology accompanied by Agriculture and Environment, took six years, and involved five Ministries. Concurrently, the Ministry of Environment and Sustainable Development launched a national program for Non-Timber Forest Products (NTFPs), that included characterization, statistics, and monitoring the products. Argentina recognized that NTFPs can be of major economic importance at national and local levels by generating employment and trade of unprocessed and processed products. During this effort, the project "Sustainable use of NTFP in northern forests of Argentina" documented cases of sustainable use of forest biodiversity, specifically of nontimber forest products. Examples include the incorporation of native fruits into the national food standard code and fungi commercialization. This presentation describes the process of developing the bioeconomy policy in Argentina, with an emphasis on the forestry sector and presents successful cases of usage and marketing of NTFPs.
Read more about Juan Pablo Moro and Sandra E. Sharry

Juan Pablo Moro, an Agricultural Engineer from the University of Buenos Aires (UBA), is an expert in non-timber forest products from Argentina and across Latin America. His special emphasis is the sustainable use of native fruits, and development of value chains. Since 2013, Juan has been the Technical Advisor in the National Program of Non-Timber Forest Products of the Ministry of Environment and Sustainable Development of the Argentine Nation.

Sandra E. Sharry holds a PhD in Natural Sciences from the National University of La Plata- UNLP-Argentina. Dr Sharry holds a number of positions, including Coordinator of the Experimental Center for Vegetative Propagation, Coordinator of the Project "Sustainable Use of Biodiversity in Forests of High Conservation Value" and - Vice-President of ProDiversitas, the Pan American Program for the Defense and Development of Biological, Cultural and Social Diversity. Previously, Dr. Sharry was Coordinator of the Forest Bioeconomy Board of the Ministry of Sciences and a member of the Advisory Commission on Bioeconomy, Secretary of Agriculture and Fisheries of the Nation.
View Webinar Recording on YouTube
---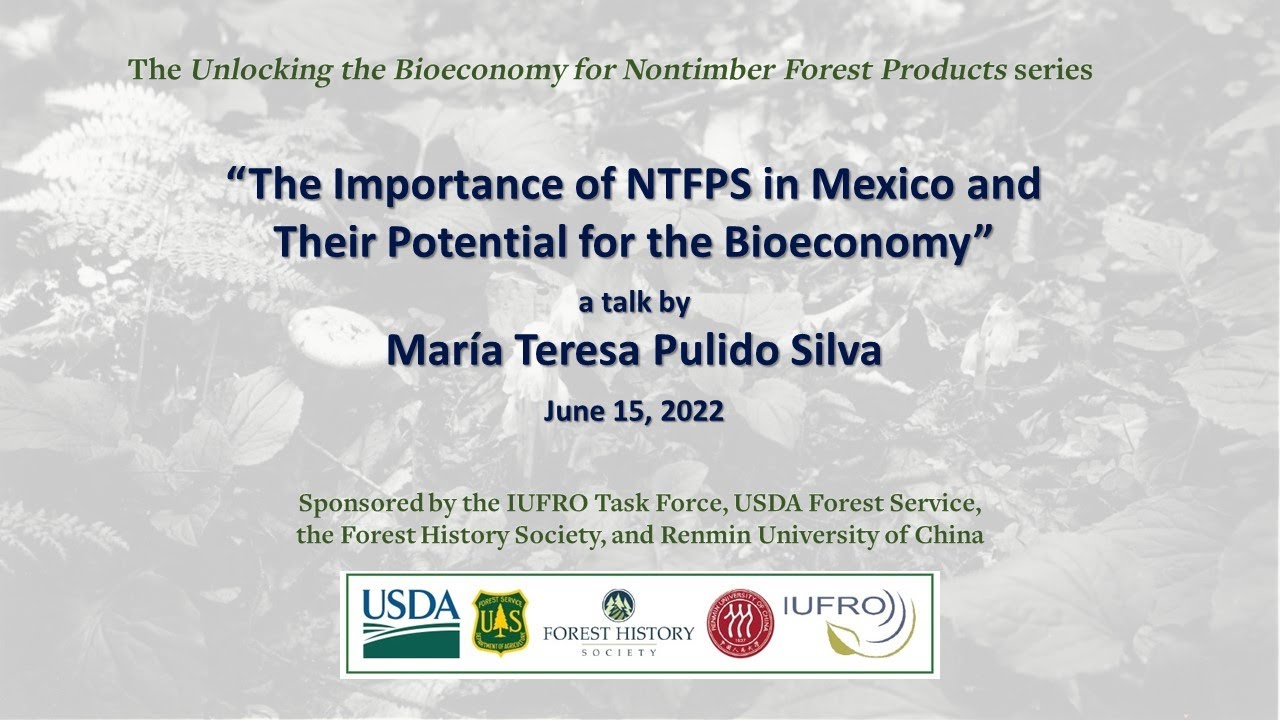 The importance of NTFPs in Mexico and their potential for the bioeconomy
June 15, 2022
Presented by María Teresa Pulido Silva
Mexico has the fourth richest flora on the planet. But this multicultural country, where more than half of the territory is communal property, is facing major social, economic, and ecosystemic changes. In this context, nontimber forest products (NTFPs) have provided and must continue to provide a livelihood for many people in the country. In this presentation by María Teresa Pulido Silva, who combines ethnobotany and population ecology for the study of NTFPs, the monetary importance and legally traded volumes of NTFPs will be analyzed and three case studies representing a gradient of commercial importance will be discussed in depth. The contextual conditions that interfere with the transition towards a bioeconomy will also be examined. This presentation can enrich the understanding of some of the challenges faced throughout Latin America in relation to the bioeconomy.
Read more about María Teresa Pulido Silva

María Teresa Pulido Silva earned a PhD from the National Autonomous University of Mexico in 2006. Her work combines ethnobotany and population ecology for the study of NTFPs, particularly palms and cycads. Dr. Silva has extensive experience working with the indigenous and mestizo use of these products, and has worked in Colombia, Honduras, Brazil as well as Mexico. She studies the use of Sabal palm by Maya people, including population ecology, landscape ecology and ethnobotanical aspects. Additionally, Maria has experience studying Brahea genera, the most important palm in Mesoamerican arid ecosystem. In particular she is studying the ethnoecology and religious use of Brahea by Otomí and mestizo people.
View Webinar Recording on YouTube
---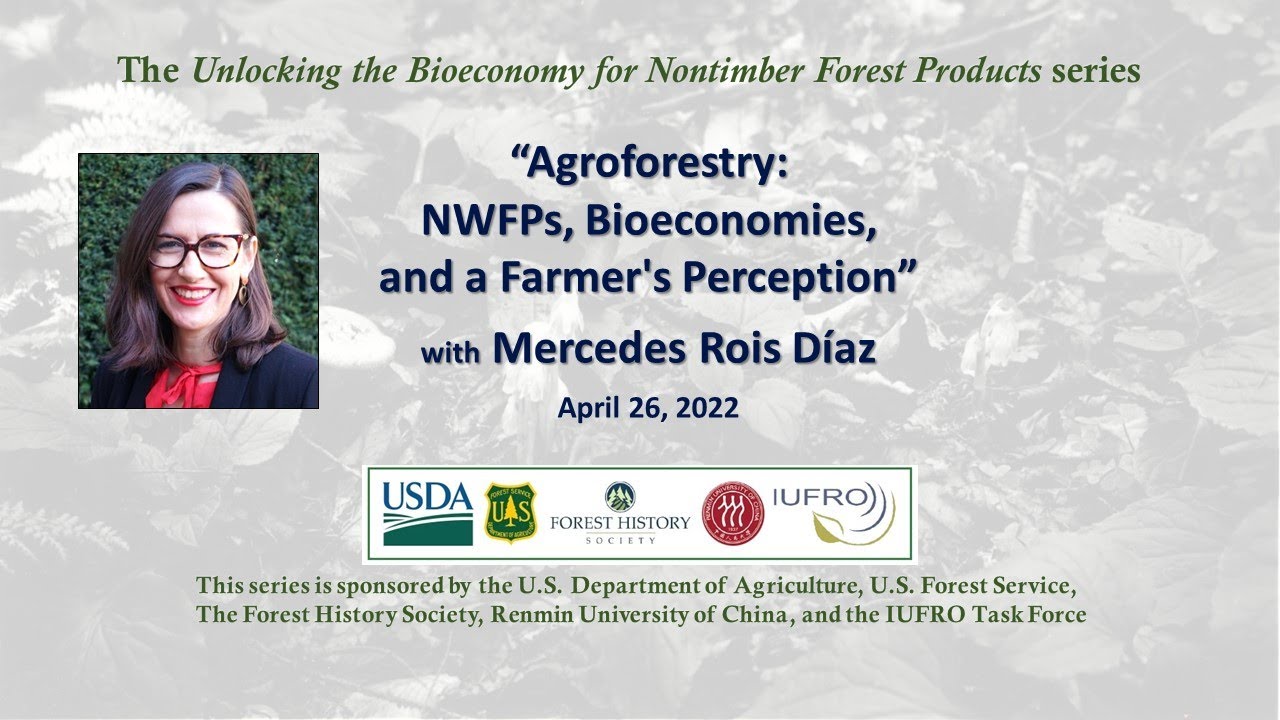 Nonwood forest products in agroforestry: Farmer's perceptions in Europe
April 26, 2022
Presented by Mercedes Rois Díaz
Agroforestry is the intentional integration of trees and shrubs into crop and animal farming systems to create environmental, economic, and social benefits. It has been practiced around the world for centuries. This webinar will focus on the potential of agroforestry to provide a variety of NWFPs, with particular attention to the Galicia region (NW Spain), and the identified driving forces for farmers and foresters to implement agroforestry. Agroforestry is receiving more prominent consideration in European and global policies as it is fully aligned with the UN 2030 Agenda, the Sustainable Development Goals, and the European Bioeconomy Strategy. The Strategy proposes actions for leading the way towards a sustainable, circular bioeconomy, and explicitly declares agroforestry as a priority land-use system that makes efficient use of ecosystems services. Despite this objective, agroforestry is not extensively used and not well-known by many farmers and foresters. Effective policies for promoting agroforestry need to be based on the motivations and the barriers affecting farmers and foresters to adopt such practices.
Read more about Mercedes Rois Díaz

Mercedes Rois Díaz is an independent consultant on forest bioeconomy, with extensive research and management experience after having worked for 17 years at the European Forest Institute. Her main field of expertise is agroforestry systems and the transfer of scientific results to farmers and forest owners, with special focus on the link to the circular bioeconomy and bioproducts.
View Webinar Recording on YouTube
---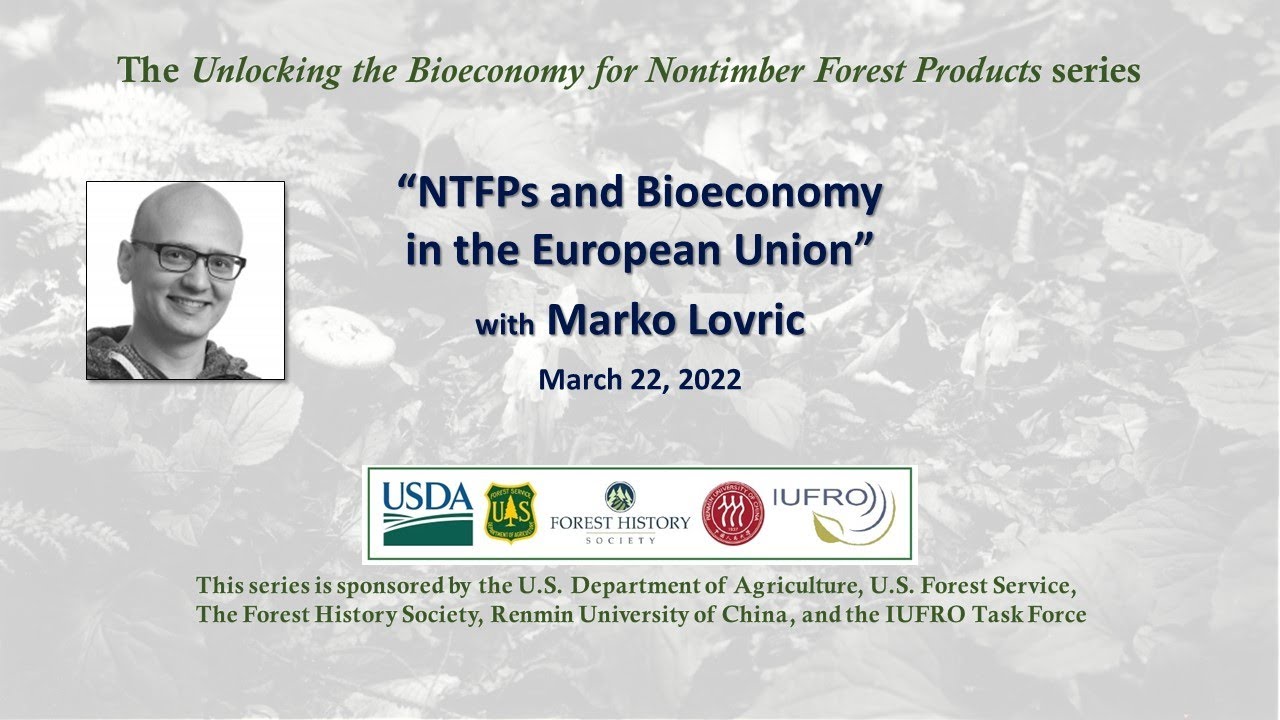 Nontimber forest products and bioeconomy in the European Union
March 22, 2022
Presented by Marko Lovric, European Forest Institute
Many non-wood forest products (NWFPs) such as mushrooms and berries are collected and consumed in Europe; but both national statistical and scientific data on this topic are reported only for a limited number of countries, products and case-study areas. Their importance as source of food and income, their links to recreation and cultural heritage, are all under-valued in forest-focused and forest-related policies.
Read more about Marko Lovric

Dr. Marko Lovric is a Senior Researcher with the European Forest Institute (EFI) and holds a PhD degree in forest policy from the University of Freiburg, Germany. He specializes in forest policy and economics. Before joining EFI, he worked as an assistant in forest policy and management of protected areas at the Faculty of Forestry, University of Zagreb. He also worked as a Forest Stewardship Council auditor for Soil Association, UK. Currently he is working on an analysis of European ecosystem services and on transition towards bioeconomy.
View Webinar Recording on YouTube
---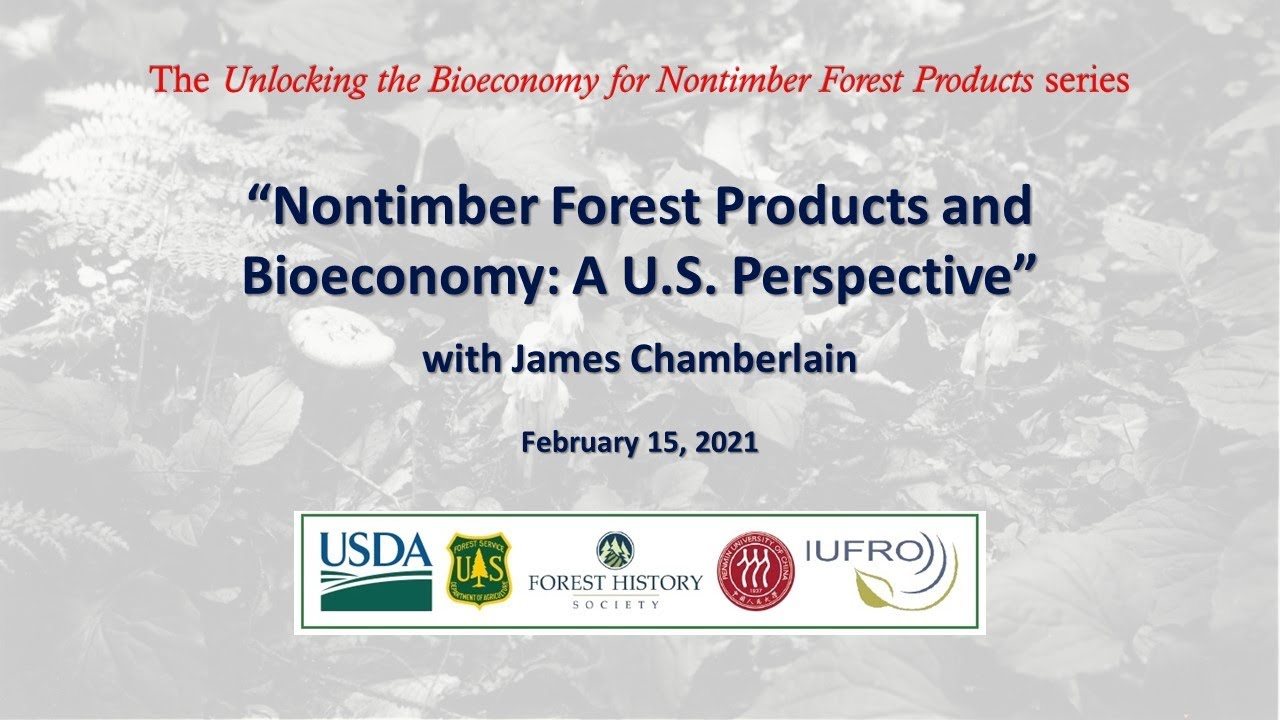 Nontimber forest products and bioeconomy in the United States
February 15, 2022
Presented by James Chamberlain, USDA Forest Service Southern Research Station, USA
No single forest system is more important than another. In a functioning bioeconomy, society needs to focus on all of them. All of the different production systems have the potential to contribute to food security and nutrition on a global scale.
When looking at management plans for natural forest lands, decision makers may want to think past timber. Forested land can produce food and medicine. Every year, in the U.S., hundreds of thousands of pounds of food are gathered from public lands. But an untapped source is the nearly 2,500 square miles of urban land that could be planted with fruit-bearing trees and contribute to production systems. Join James Chamberlain of the USDA Forest Service for a discussion about the U.S. and the bioeconomy.
View Webinar Recording on YouTube
---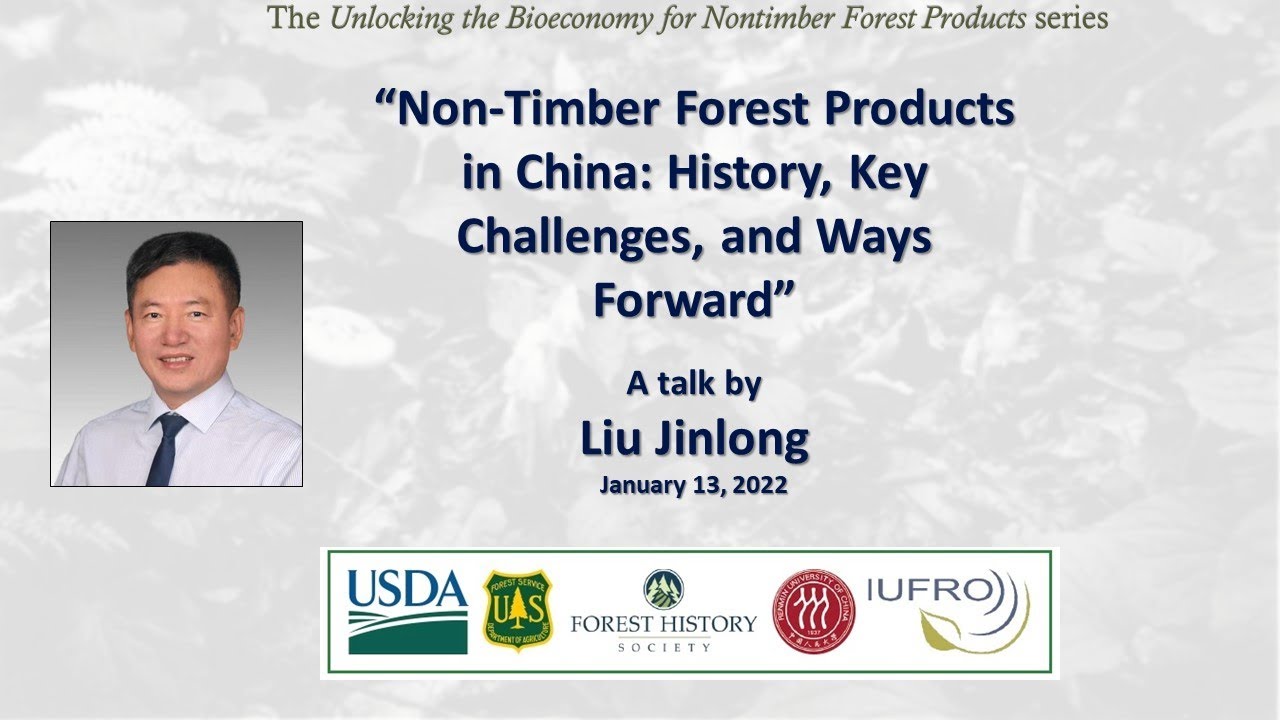 Roles of NTFPs in poverty alleviation in China: Case studies of southwest China
January 13, 2022
Presented by Liu Jinlong, Renmin University of China, Beijing, China
This presentation will explore China's story of evolving notion of Non-Timber Forest Products, experiences of policy supporting promotion of NTFPs in the rural economy, and try to capture policy implications. NTFPs are of great importance to peoples' livelihood, rural economy, cultural heritage, biodiversity conservation, and community engagement, yet their roles in rural social-ecological systems varies greatly. Since 2004, collective forest reform has been implemented and most forests have been privatized to individual households. However, a large percentage of those forests have been poorly managed due to low economic returns and bureaucratic challenges to harvesting trees. To be discussed are the steps taken to motivate more investment in forest lands and support implementation of rural collective forest tenure reform, what policy reforms by different levels of government have worked or not, and the challenges faced by and recommendations for integrating NTFPs into the "green" economy.
Read more about Liu Jinlong

Liu Jinlong is a Professor and the director of the Center of Forestry, Environmental, and Resources Policy Study at the Renmin University of China. He received his PhD in Rural Development Sociology from the Wageningen University in 2006. He is Honourable Adjunct Professor at Hongkong University, Adjunct Professor at Wageningen University, and Research, Seoul National University. His research fields include: rural development, forest governance and policy, nature resource management, and environmental governance. He is Deputy Coordinator of IUFRO Forest Policy and Economic Division (Division 9), and a member of Task Force of Indigenous and Local Knowledge of the International Science-Policy Platform on Biodiversity and Ecosystem Services. He has published more than 100 journal articles and 4 academic books between 2010 and 2020.
View Webinar Recording on YouTube
---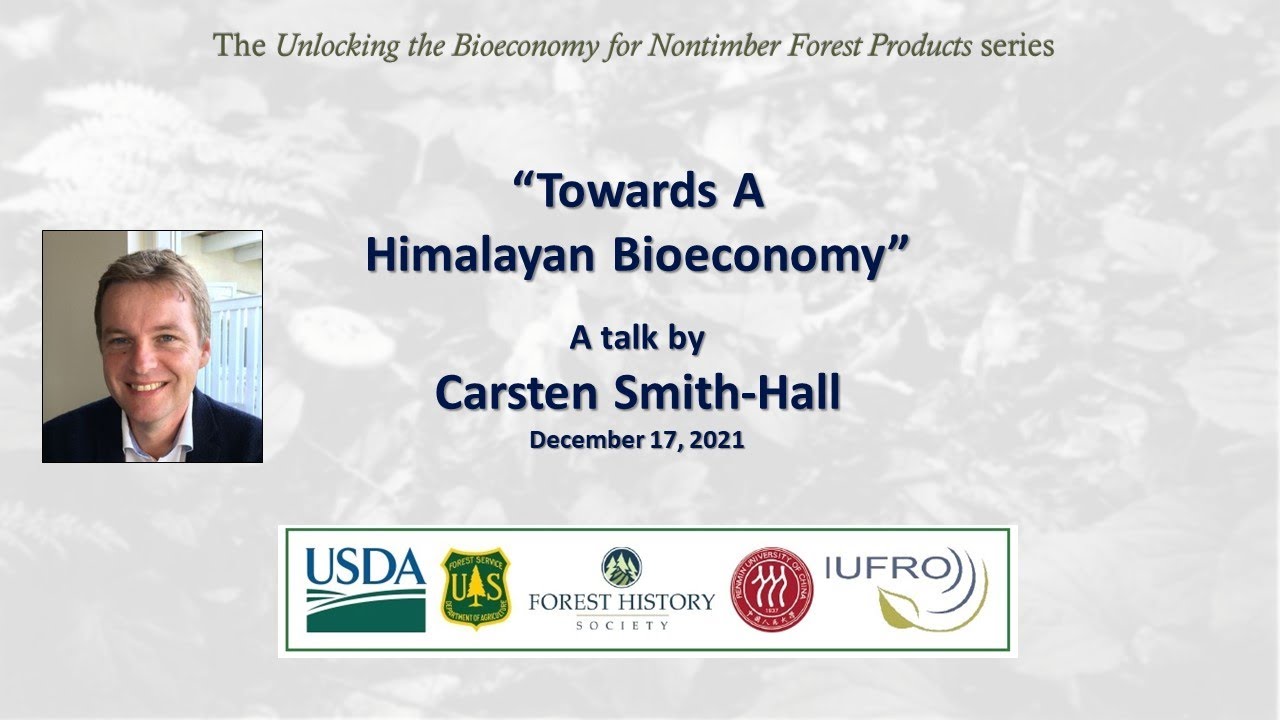 Towards a Himalayan bioeconomy
December 17, 2021
Presented by Carsten Smith-Hall, University of Copenhagen, Denmark
While the number of dedicated bioeconomy strategies around the world is increasing, as are the efforts to identify gaps in the current set of strategies, the majority of the world's countries remain without any nominal bioeconomic laws, i.e., policies and legislation explicitly addressing the bioeconomy. However, all these countries have functional bioeconomic laws, meaning, non-bioeconomic policies, laws, and regulations whose provisions have some relevance for the bioeconomy. Using the case of commercial medicinal plants in Nepal, this talk focuses in on how to build on functional bioeconomic law to support the identification of transition pathways to the forest-based bioeconomy in a low-income country.
Read more about Carsten Smith-Hall

Carsten Smith-Hall has directed several international and interdisciplinary research programmes and published in both natural and social science journals. He has raised more than €25 million in external funding for research and development of teaching programmes. His research is focused on environment-livelihood relationships, including the role of forests in preventing and reducing poverty; environment and human health, in particular the role of forests in maintaining and improving welfare; and commercial utilization of biodiversity, with emphasis on trade and conservation issues. He is a member of several international journal boards, co-coordinates the Global Task Force on Unlocking the Bioeconomy and Non-Timber Forest Products (under the International Union of Forest Research Organizations), and serves on the World Conservation Union's Medicinal Plant Specialist Group. He is Head of Studies for the MSc in Environment and Development.
View Webinar Recording on YouTube
---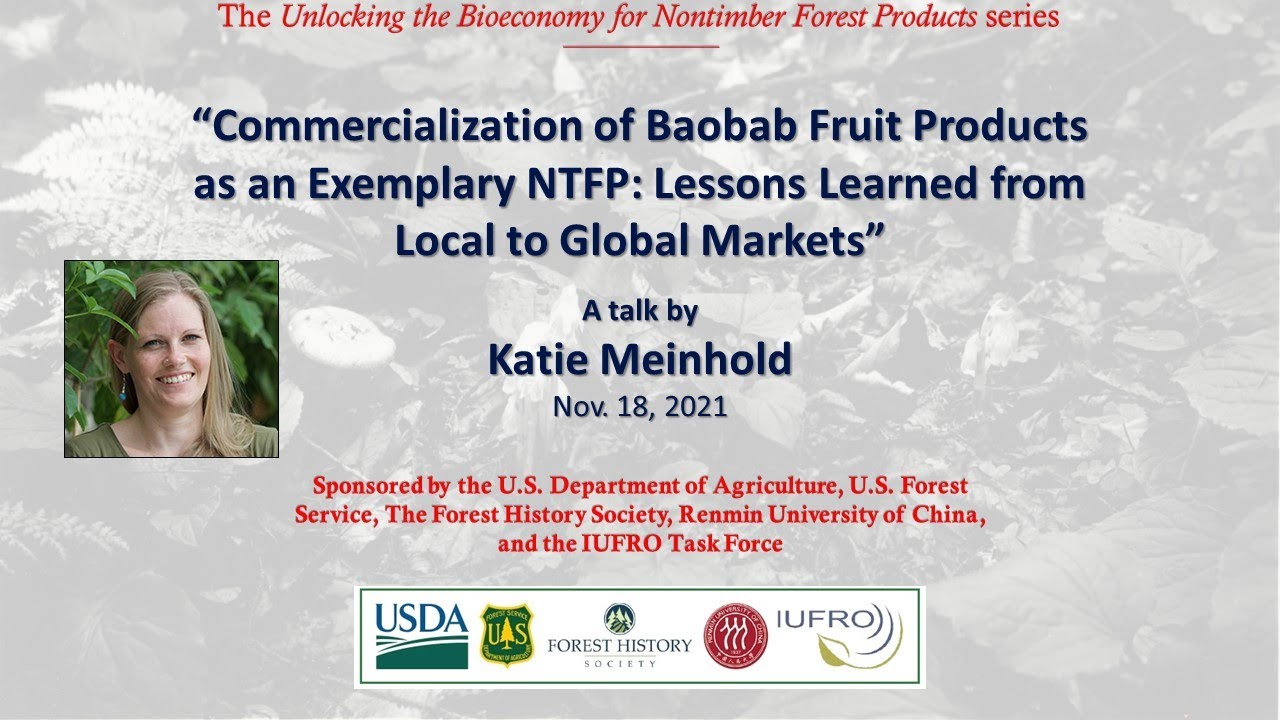 Commercialization of baobab fruit products as an exemplary NTFP: Lessons learned from local to global markets
November 18, 2021
Presented by Katie Meinhold, Rhine-Waal University of Applied Sciences
Wild forest food resources are becoming popular, and products are increasingly entering modern food supply chains. Baobab fruit pulp features nutritional properties such as high levels of Vitamin C and selected minerals, especially Calcium, and phytochemicals such as polyphenols, making it an interesting candidate for the bioeconomy. Since it is naturally dry when the fruit is ripe, it can easily be used as an ingredient to enrich other foods and a variety of products have been developed in recent years including juices, snack-bars, and cookies, fostered by its potential health benefits and reduction of micronutrient deficiencies. While in selected countries with widespread baobab resources derived products are only slowly losing their 'food for the poor' image and are yet mainly used traditionally, in other countries products are increasingly also available in formal domestic food outlets, a transformation which has consequences not only on resource demand, but also on its supply chain organisation and product quality. To facilitate the jump onto international markets various innovations as well as a variety of actors and institutions in the global South and the global North were necessary, focussing both on the production side to achieve the high-quality standards demanded as well as on the consumption side to make baobab popular amongst novel consumers with no previous exposure to this product. Since most of these developments were pushed bottom-up using external support, there is a need to strengthen the institutional framework and enabling environment, to further foster the production of high-quality and ethically sourced products and contribute to rural development. Katie Meinhold will discuss these developments using baobab fruit products as an example, focussing on local markets, as well as how baobab overcame challenges faced by most NTFPs in gaining access to formal international markets.
Read more about Katie Meinhold

Katie Meinhold is coordinating the Sustainable Food Systems Research Centre at Rhine-Waal University of Applied Sciences whereas the sustainable utilisation of wild plants and forest products is one of the research priorities. Her research focusses on the evolving markets and sustainable commercialisation of products derived from the baobab tree, particularly its nutritious fruit. Her academic background lies in nutritional science and sustainable resource management. Katie has extensive experience coordinating and working in international multi-actor research projects, including projects focussing on baobab resources (BAOFOOD and BAOQUALITY) in Kenya, Malawi, and Sudan.
View Webinar Recording on YouTube
---
Comparing the potential of non-wood forest products in different European regions
October 20, 2021
Presented by Harald Vacik, University of Natural Resources and Life Sciences – Institute of Silviculture, Austria
Forest management often does not give full attention towards the management of non-wood forest products (NWFPs) since wood production is the main ecosystem service provided. In this presentation the future potential of NWFPs for diversifying the forest bioeconomy in different European regions is investigated. The results of several case studies are based on a multi-criteria analysis, including stakeholder interaction and expert involvement. Forest owners who are willing to focus their management on the joint production of wood and non-wood resources will be able to learn about the most successful combinations in a given ecological and socio-economic context. The presentation intends to unravel perspectives for forest owners in particular as they act as main suppliers of NWFP raw materials and thus can be understood as key actors in a forest bioeconomy. Due to the varying socio-economic and ecological environments, there is huge potential to strengthen the economic viability of rural areas and a sustainable co-production may foster the ecological integrity of forest ecosystems across Europe.
Read more about Harald Vacik

Harald Vacik is doing his research on the evaluation of natural resource management in the context of sustainability and biodiversity. Spatial decision support systems for multipurpose natural resource management developed at the Department of Forest and Soil Sciences at the University of Natural Resources and Life Sciences Vienna, where he is associate professor of silviculture, are part of his research activities. For almost 20 years he has been actively involved in the development and application of criteria and indicators for evaluating sustainable forest management at the forest level and in national and international contexts. In this context he is providing expert advice in the implementation of scientifically based practical applications of silvicultural know-how and multi-criteria decision-making techniques in Europe and Asia. He is a founder of the Austrian Forest Fire Research Initiative (AFFRI) and the Sub-Regional Euro-Alpine Wildland Fire Network of Global Fire Monitoring Center (GFMC). He is coordinator of the IUFRO group 4.03.03 "Information management and information technologies" and coordinator of the Community of Practice of Forest Management Decision Support System. Harald Vacik has been actively involved in several European-scale and nationwide research projects and initiatives on the evaluation of management concepts for non-wood forest products and ecosystem services for balancing multiple interests on natural resources.
View Webinar Recording on YouTube
---
Stone pine cultivation and the emerging bioeconomy in Chile
September 30, 2021
Presented by Verónica Loewe Muñoz, Chilean Forestry Institute, INFOR, Chile
Pinus pinea is a Mediterranean species whose edible seeds are highly valued and demanded worldwide. The cones are harvested mainly from natural forests, and the pine nuts are considered NTFPs. Cropping of this species generates income from cone or pine nut sales, creates jobs, and provides multiple social and environmental benefits, contributing to rural development. The presentation presents the potential contribution of stone pine, an emerging crop in Chile, in terms of its socioeconomic benefits and its relationship with the bioeconomy. An economic assessment of stone pine cultivation was estimated under different management schemes: medium-intensity managed plantation, medium-intensity managed agroforestry system, and high-intensity managed plantation. Regardless of the management scheme, stone pine plantations would contribute to sustainable socioeconomic development, representing an opportunity for transition towards bioeconomy.
Read more about Verónica Loewe Muñoz

Verónica Loewe Muñoz received her BSc in Forest Engineering from Universidad de Chile in 1986. Then in Italy she did a specialization on high value timber production and was introduced to stone pine (Pinus pinea L.). Verónica did her doctorate in Biosciences and AgriFood Sciences at University of Córdoba, Spain (2012–2016) focused on stone pine growth and fruiting, variability, adaptation, and management. In 2019, she was recognized by the International Union of Forest Research Organizations (IUFRO) with the Outstanding Doctoral Research Award in recognition of the scientific achievements in her research, making valuable contributions to the advancement of the species' domestication, contributing to the establishment of over 3,000 hectares of new plantations for pine nut production in Chile. She currently is project leader at the Chilean Forest Institute (INFOR), in charge of the program "Development and contributions for the use of high value forest and forest-fruit species for Chile," funded by the Ministry of Agriculture. Her goal is to offer to society new productive alternatives and sustainable productive models that can be successfully implemented at an economic, environmental, and social point of view.
View Webinar Recording on YouTube
---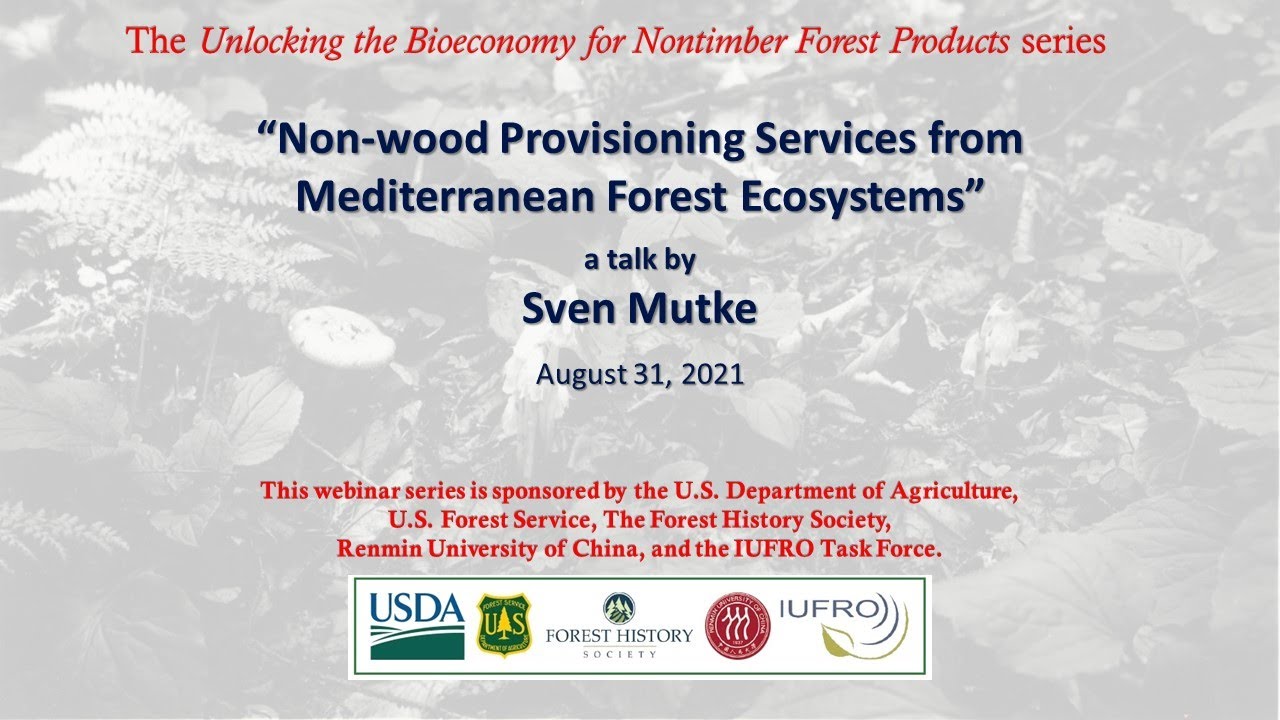 Non-wood provisioning services from Mediterranean forest ecosystems
August 31, 2021
Presented by Sven Mutke, Forest Research Centre (INIA, CSIC), Madrid, Spain
Pine nuts, mushrooms, and woodland pastures are just a few examples of the nontimber forest products that are increasingly part of the bioeconomy—an economic model that embraces forests as a source of food while prioritizing biodiversity and sustainability. Dr. Sven Mutke discussed Mediterranean forest ecosystems and the goods they provide.
Read more about Dr. Sven Mutke

Dr. Sven Mutke is Head of Service for Forest Industries at the Forest Research Centre of INIA-CSIC, the Spanish National Research Council, though his expertise is centred in Mediterranean Non Wood Forest Products management and production, particularly the edible pine nuts and the pine gum resin tapped for industrial uses. Sven is coordinating the IUFRO Research Group 1.08 on Silviculture for edible NWFPs, and had been coordinating before the FAO-CIHEAM research network on Mediterranean stone pine. He is also member of the global IUFRO Task Force that defines and examine the potential of NWFPs for a Bioeconomy. Sven holds a Ph.D. from the Forestry College of Madrid Tech (2005) on the development of stone pine as grafted orchard crop. He has published extensively on the subject of Mediterranean pine woodlands, their ecology, management and products. Sven has extensive experience working in multipurpose and multi-actor research projects and networks with forest value chain stakeholders in Europe, northern Africa and Middle East, and has collaborated in projects on edible NWFPs in eastern Asia and Southern America.
View Webinar Recording on YouTube
---